26

min read
Last Updated on October 6, 2022
This is Part Two of the Dark Side Of Ayahuasca. This article was motivated, in part, by the response I had from various readers of Part One, and on that note it begins by directly addressing the comments left by the reader named Silvia. If you have not read Part One, please do so now (and read the comments), and come back to Part Two when you're done.
In response to Sylvia…
Hello Silvia,
Thank you for sharing and continuing to dialogue.
You might be absolutely correct in your perspective. Your perspective might also have inherent self-imposed limitations. As might mine.
First, for clarity: In my article I was not attempting to state or imply that (under certain circumstances) the ingestion of ayahuasca does not provide any benefits. Naturally, if that were the case it is unlikely ayahuasca consumption would have achieved the popularity it now has among those people looking for deep answers and spirituality. I trust this is clear. Pointing out the shadow side of an activity does not negate the side that is illuminated/illuminating. It is akin to pointing out the dangers of an invasive medical procedure. Some people will choose to do it anyway, wanting the superficial and yet potentially life-saving benefits. Usually necessary precautions will be taken. Whilst other people will choose to invest their energy into another approach to their healing.
The fact indigenous people use ayahuasca does not suggest to me it is without negative or spiritually detrimental consequences. Just as the fact many Governments and modernised people claim psychoactive substances are dangerous and evil, does not mean these substances have no potential benefits.
"Also, as you might be aware, today there are so many scientific research findings that shows how beneficial all these substances are… thus, my experiences have shown this too (Iam not blind-sided, as you suspected). I mentioned mostly the healing aspects of these substances, not the spiritual, as you focus…"
This statement concerns me. There are also many scientific studies touting the benefits of modern pharmaceuticals and surgical procedures, yet from my perspective that does not mean they are without limitations and negative side-effects. Personally I choose to avoid such things, despite the "scientific validation" they may have gained. It is interesting to me that you differentiate the "healing aspects of these substances" from the spiritual impact they have on people. From my perspective, all healing occurs first spiritually, and then (potentially) emerges into to the physical realm. From this perspective, healing is not possible on the purely physical level. Healing occurs spiritually, and may or may not impact the physical level at all. For instance, a person may be healed of the fundamental spiritual cause of their cancer, and yet their body might still succumb to the cancer itself. But it doesn't go the other way around—where a person "heals" from the fundamental cause of their cancer without shifting on a spiritual level.
From my perspective there is a limitation in looking at the physical/emotional/mental benefits of a substance like Ayahusaca, without considering the spiritual impact drinking this plant may have.
"Those substances are great paths for self-knowledge"
I agree, and yet my observation is that it's a level of self-knowledge that brings with it inherent limitations. These limitations may be perfectly acceptable for some souls at their current state of development, but unacceptable for a soul deeply set on the Path of Freedom. Of course if Man has degraded himself to such a degree that he/she is oblivious to his/her Spirit (as a direct living experience, rather than an mentalised concept), then blasting his perception into the spiritual dimensional may prove beneficial. But only to the degree the inherent limitations of such an act permit.
Taking a pharmaceutical drug to delay the onset of a deadly disease also has its place for those who are operating on that level, but again, only to the degree its inherent limitations permit. Yet let's not pretend the drug is without limitations, without negative side-effects, and only a self-imposed step toward true healing.
Intended Audience
I wish to clarify that the intended audience for the Dark Side of Ayahuasca article, and now this article consists of the following people:
People who have already engaged in using ayahuasca and are subsequently bothered or troubled by something they are having a hard time identifying or explaining. I have met a lot of people in this category, and since writing the article an increasing number of people in this situation have been contacting me to ask for help.
People who are considering taking ayahuasca but feel some uncertainty despite the fact very little negative is said about it (except by those who are ardently biased against all psychoactive "drugs" as a result of religious and/or cultural programming and dogma).
People who have a genuine interest in their spiritual evolution, and a strong wish to not entangle themselves in forces and spiritual complications beyond their current level of perception.
People who plan to take ayahuasca again or for the first time, and wish to do so intelligently and without unnecessarily jeopardising  their spiritual development.
Intention
From my perspective, every act of Man has many layers of impact and consequence. Intent plays a pivotal role in determining outcome. Although forces stronger than a persons intent can over ride this. As a spiritual teacher my focus is of course "spiritual," as Silvia put it. Although I am not sure I would separate that from what she refers to as "the healing aspects of these plants [or "substances" as she put it]". But that is an aside. From a certain perspective every act Man engages in, when approached in a suitable way, will be experienced on some level as an act that is healing (restoring harmony of body, mind, and spirit). There is a chapter in my book called "Life as medicine," where I explore this in detail. There I propose that Life itself—and all we experience in life—is medicine. However, there are differing degrees of unconsciousness playing out in any step we make. Learning through unconsciousness is inherently more painful and disturbing our spirit than learning through acts of consciousness. However, the prior is the primary mode through which Man at this time in our evolution tends to learn (to become more Aware).
At the risk of repeating myself… even our modern pharmaceutical industry can be seen as a healing use of substances, and yet it is not something I personally turn to for true healing. Like most things, it too has a potentially harmful "dark side" or shadow-side, and for me personally in a great many instances I find the burden of its dark elements outweigh the positives. And yet many people have fallen (in consciousness) to such a degree that depending on the medical system and its many "substances" for "healing" appears to be the best, ideal, and most enlightened option in facing their degenerate condition. If I was in their exact situation (inwardly and outwardly), I would do the same. I can't deny that, and yet as a spiritual teacher I am obligated to map out and share perspectives that dive deeper than ordinary man is typically willing or even able to investigate and discern when it comes to healing practices, as the case may be.
The element of "intent" is crucial. I suggest that before any serious undertaking, those walking a Path of Freedom, ask themselves:
What is my intention with the acts I engage in and pursue?
How clear am I within that intent?
In what ways might I be blind-sided?
In what ways might my self- and culturally-imposed limitations (of perception and perspective) be causing me to idealise a situation or course of action? (I know many people who idealise the notion of going to South America and taking ayahuasca with a so-called "shaman". For many "Westerners" it has a spiritually exotic and alluring lustre to it.)
What is it within my luminous body (or psyche) motivating or influencing me to take a particular course of action?
Do I really know what I am getting into? Am I simply curious? Every action produces and equal and opposite reaction. Am I ready for that?
Within the astral realms what kind of forces and entities might take this "reaction" as an opportunity to take advantage of my energy as a luminous being (i.e. draw from my life-force, etc.)?
Also, as mentioned above, what other forces of Intent am I going up against when I engage with ayahuasca? Is the power of my intent stronger than the antagonistic and/or opportunistic forces I might be up against? Does the person running the ceremony have sufficient mastery of the "medicine space" to make up for my own deficiencies when it comes to commanding and navigating the astral realms?
Reciprocity
A crucial teaching I have received from many traditions, and most recently (and with the greatest of emphasis) from the ancient tradition of the Kogi of Colombia, is that of reciprocity. Simply put… Every act we engage in, and everything we receive (energy, stuff, food, experiences, natural elements, goods, etc.) has a spiritual cost involved. Those who are heartlessly raping and pillaging the planet might be an exception, but for the most part the rest of us accept this about our material world. "Nothing is for free," as the saying goes. Yet many of us are oblivious to this dynamic at a spiritual level. Many of us take for granted the life-force we receive in every moment, along with all the experiences we have and the elements involved in those experiences.
As far as anyone knows, the Kogi are likely the only remaining in-tact civilisation on this planet who have avoided being infiltrated by "dark forces," and avoided diverging from living by what they call the Original Knowledge (transmitted to them by The Mother[1]I realise some readers may not know what I am referring to as "The Mother" also referred to as the Divine Mother, Great Mother, Mother … Continue reading). They, and their ancestors (the Tairona), are likely one of the oldest living culture in the world who remain relatively untouched by the world beyond their culture. They achieved this by following very particular spiritual guidelines (Rules of conduct) given to them by The Divine Mother. From their perspective, a lack of reciprocity (spiritual payment) has been and still is the primary cause of downfall in humanity. In simple terms, a lack of reciprocity creates a spiritual debt, and eventually this has to be repaid. If not repaid consciously, it is repaid unconsciously through what we would call misfortune, illness, suffering, natural disasters, spiritual degeneration, etc.. In India this is referred to as karma.
How does this relate to ayahuasca? Simply put, the first question we must ask before taking ayahuasca is this: Has The Mother sanctioned this act? Is taking ayahuasca in perfect alignment with my sous agreement with The Mother?
If not, then right from the offset, it is an offence to (i.e. "going against") The Mother and will result in a spiritual debt. The combined intent of me and the shaman might keep immediate troubles at bay, but a debt will be generated whether my little ego likes it or not. According to the Kogi the debt for violating the astral realms without the prerequisite sanctioning of The Mother is a serious one. They consider it a serious offence that creates disorder and imbalance in the Universe. Keep in mind that the Kogi see humans as one of the most powerful sources of power in this universe, more powerful that the sun. From their perspective, our every thought and action has an impact on the balance of the Universe.
Further, we must ask, "Do I know how to make appropriate payment (recompense) for…" :
The massive influx of psychic energy (life-force) experienced and consumed during an ayahuasca session

Am I using that energy for the explicit and direct fulfilment of my Purpose, in agreement with The Mother? (God, Creator, Supreme Source, call it what you may… although the Kogi specifically relate to That through the Divine Feminine);
Can I be absolutely certain inorganic beings (entities, Malu, dark spirits, demons, [call them what we may]) are not going to harvest my life-force whilst my luminous energy body is breached by the blast of psychic energy induced by ingesting ayahuasca?

For violating the barrier between the material plane and the astral realm without sanctioning from The Mother;
For allowing my state of consciousness to degenerate to the degree that I need to manipulate a powerful plant spirit to try and restore myself; and, perhaps most importantly;
For using a plant in a way that was not intended by the Mother in the beginning.
I realise this last point is contentious and is likely to raise resistance among many ayahuasca users. But according to what I have understood from my teacher and from the Kogi Mamas of Colombia, the Mother laid out in very specific terms the exact purpose for every place, substance, plant, rock, shell, etc. From their perspective, when we use something for a purpose that differs from what The Mother intended, we are seen as offensive. According to my teacher, when he asked the Kogi about the use of hallucinogenic plants, they say they have checked "the records" and see no record of The Mother telling Man to use these plants for this purpose. They see these plants as powerful forces that The Mother assigned to fulfilling a certain (and very important) role within the natural world, among the plants. From their perspective (as I have understood it) when we use those plants for a different purpose than that, we are violating the natural balance and order of the universe. They also see that in most cases the use of such plants creates an imbalance in the luminous energy field of Man, and they see that as very detrimental to our spiritual well-being.
From a Kogi perspective (as I have understood it), if I can obtain sanctioning from the Mother, from the location, from the local Place of Power, from the spirit of Ayahuasca, and from the guardians of the astral threshold… AND I make suitable payment before and/or after the experience, my use of ayahuasca is likely to be a safe and debt free one. In which case the benefits will more than likely outweigh any detrimental spiritual and material side-effects. I personally feel there are very particular situations in which The Mother does in fact sanction people to use ayahuasca.
However, my understanding is that Man was not, in general, instructed (by The Mother) to ingest these plants. At most some tribes may have been permitted (spiritually speaking) to use these plants as a step toward their recovery of spiritual consciousness after the so-called "fall" into materiality. My understanding is that we invented the ceremonies involving use of these plants. We started to use these master plant spirits for our own self-centred gains, disregarding the original Intent of The Mother. It was this disregard that caused Man to fall in the first place. And then Man further disregarded Divining Ruling in order to try and sort himself out… to manage on his own, as a free agent (as opposed to being in loving service to the Divine).
Right Relationship
Let's for a moment dismiss what the Kogi have shared regarding right-use of ayahuasca. Let's assume there are in fact situations in which it is appropriate for Man to use these plants for altering his perception. Perhaps "little brother" (as the Kogi refer to other cultures) has degenerated his consciousness to such a degree that using these plants is appropriate under certain circumstances. We must then ask, what is the traditional, time-tested way these plants were utilised? Please note, I say 'time-tested' but not 'proven', for the simple fact that most (if not all) of the cultures in Peru, Ecuador, Brazil, etc. have 'fallen' and been 'infiltrated' over the centuries. This, according to the Kogi, is indicative of them falling out of alignment and alliance with The Mother. Alliance with The Mother is, for the Kogi, the sign of whether or not Man is still in tact (whole, complete, and un-infiltrated).
It is my understanding this brew was not for general consumption. In very simple terms, the curandero or ayahuasquero would take the plant, and the one requiring healing would be treated by him. What's more he (or she) would not simply leap into ingesting this plant. He would go through an extensive process of cleansing and preparation (physically and spiritually) for many years. He would learn to have conscious relationship with the natural world and, more especially, with plants. Only when ready would he be formally introduced to the Mother of all Medicine plants. Only then this Mother would consider him non-offensive, and someone worth considering for a mutually beneficial relationship.
If he was worthy—if he had successfully proven himself as a reliable and pure-of-heart ally—the Mother of all medicine (ayahuasca) might assist him. Because Man holds one of the highest levels of energy in Creation (something the Kogi attest to), Mother Ayahuasca would benefit (rise in consciousness) through her interaction with Man. Because Man is in a fallen and spiritually ignorant state, he too would benefit from his relationship with ayahuasca. She knows well the astral realms (4th, 5th, and perhaps 6th dimensions of consciousness). She understands and exists within the psychic realm Man emerged out from over recent millennia and subsequently lost conscious contact with. Simply put, his key assemblage points became fixated in a way that limited his perception to the material plane. She has the power to shift and manipulate his assemblage points, which is precisely why fallen Man was interested in coaxing Her into working with him. But at what price?
So, over a long period of time (and "time" equates to "energy") the ayahuascero would develop a relationship with Mother ayahuasca. If he was smart, he would ensure his every move with her was balanced by an act of spiritual reciprocity. Without this reciprocity, imbalance and eventual demise is certain. If you have taken ayahuasca, what was the spiritual act of reciprocity your Maestro had you engage in as payment for your experience? I am not referring to the money you may have paid him, but a spiritual act between you and The Mother.
For the sake of brevity, I have only touched on certain key points in the above illustration. Please excuse me for what I have left out, if it is cause for confusion.
Now, compare this scenario to the average "Westerner" using ayahuasca today? Many are simply into "tripping" on whatever they can get their hands on. Many are spiritually lost and desperately seeking answers, wherever they can most easily find them. Many are hoping for shortcuts to alleviating the perennial burden of their inherent unconsciousness. Many are seeking reprieve from the heartless hum-drum existence of contemporary life in the "Western world". Some—hopefully more than a few—have a deep and genuine interest in evolving spiritually. Out of those, many are still simply looking for relief from the pain of their state of disconnection to the Divine. Relatively few might actually and genuinely be looking to restore their relationship with the Divine, become fully conscious of their original agreement with That, and to be of service to That and all Creation. Yet, even these few may not be looking in the ideal place for the fulfilment of this intention. In the spiritual depravity of modern society, it can be extraordinarily challenging for people to know where to look for spiritual answers to their discontent.
None of this is to say all these people won't in some way benefit from their ayahuasca experience. I am not suggestion no "Westerner" will shift their awareness in a way that aligns them more harmoniously with Life, and helps them see and deal with their shadow. But it could also be argued that even getting hit by a bus, or coming to the brink of death by disease has been knowing to do these things for human beings. That doesn't mean stepping out in front of a bus and purposefully having a near-death experience is the most life-giving way to go about "waking up". Yet, for some people, that's about the only thing that will and does wake them up to just how lost and disconnected they are from their own luminous spirit, and from The Mother.
Alignment and Awareness
This is perhaps covered in what I shared on Right Relationship.
What I have observed is that significant numbers of people enter into a relationship (or, at the very least, a consumptive engagement) with ayahuasca with a degree of naivety, idealism, and blind-sided vision that is detrimental to their spiritual well-being. The challenging consequences of such as act can most certainly be viewed as something "healing". We could view it along the lines of, "Well, the plant only showed you the consequences of your shadow, ignorance and naivety, and whatever this brought up into your perception and world is only your own stuff, and something for you to heal… so the plant was doing you a service".
From a certain perspective, that is a valid and accurate assessment. Yet, from where I stand, there was very likely another course of action most ayahuasca users could have chosen that would have brought them to a more wholesome (holistic/integral) experience and perspective, without the spiritual and energetic side-effects they subject themselves through contemporary ayahuasca usage.
The Path of High Adventure
Another ancient tradition I am intimately familiar with is what some refer to as Toltec (and I am not referring to a culture from Meso-America labelled "Toltec"). Without getting into too much detail, within the records of the Toltec there is significant account of Man's exploration into utilising mind-altering plants for spiritual development. After our fall at the decline of Atlantic, man was seeking to regain his the spiritual consciousness he had lost. The short story is that after centuries (longer in some regions) of using these plants, certain Toltec clans realised that although certain benefits were derived from these practices, the overall cost and spiritual burden was not worth the risk. It was a shortcut that provided certain important revelations about the Path, and yet was not the long-term answer.
Within the spiritual realms a split took place. There were those souls (and subsequently "people") who had an on-going affinity and predilection for using plants to alter their consciousness. In some schools (lineages) this path was referred to as The Path of High Adventure. People on this path are typically oblivious to its short-comings, and will feel completely self-justified in walking it. They will, however, typically find that if they stop long enough and feel inside their Heart, they'll notice a sense of spiritual dissatisfaction that is not being fulfilled, no matter what form of High Adventure they engage in. I encourage readers interested in this subject to explore the work of the late Théun Mares. One might start with reading this and this article published by Théun Mares, and here's a forum thread that contains relevant material from one of Théun's books).
Sorcery
My primary spiritual teacher—an extraordinary Man of Knowledge and a true seer from Colombia—has shared on numerous occasions that most, if not nearly all, ayahuasca usage is primarily a form of sorcery. This concurs with my own realisations on the matter. Sorcery is, for a great many people, a valid path in its own right. Yet, from my perspective, it is not a Path of Freedom. So this whole matter of whether or not to use psychoactive plants all comes down to intent. What is your intention as a soul and as Spirit? Is your intention one of freedom or something else? Is it what Théun Mares (in the above linked articles) refers to as a Path of High Adventure? Is it a path of psychic entanglement with lower astral entities in order gain some temporal psychic benefits and emotional and psychological alleviation?
What is sorcery? Very briefly, sorcery is any practice or path that engages in the psychic (and also psychological) manipulation of forces, entities, and "spirits" for self-centred outcomes and gain—typically in order to wield power or control over another to one's own advantage (which may or may not be overtly apparent to others). Put another way, it's any practice involving the manipulation of the Mother's energy, in its various forms, that is not sanctioned by the Mother.
The Path of Freedom
The integrity of the luminous body, the purity of the Heart, and the sobriety and lucidity of the "mind" are key elements on the Path of Freedom. Alignment with The Great Mother (by whatever name we call That) is considered crucial. This is a path that in many ways can superficially appear to be very similar to The Path of High Adventure. Yet underneath they are like night and day. The use of psychoactive plants only very rarely fits in with the Path of Freedom. Dependency on any "external" agents such as the spirit of ayahuasca is recognised as being a form of self-imposed limitation, and an unnecessary exposure to psychic agents in the astral realm that can entangle us and hold us back for serous amounts of time (time equates to energy).
Those on a Path of Freedom realised that using substances to shift their primary perceptual assemblage point is artificial and by its very nature an act of self-imposed limitation. Doing it once or perhaps a few times can certainly be very reality expanding, and help open up the tight grip imprints, conditioning, and programming have on Man's perception. Yet this is just a glimpse through a spiritual window. Once we know, through this experience, there is in fact a spiritual reality and intelligence beyond the confines of the perceptual walls most of us ordinarily live within, it is up to each of use to find the way out. It is up to each of us to use the Elements of Power given to us by The Mother for this purpose.
Alignment with The Mother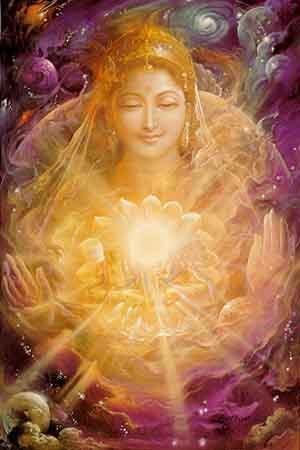 In essence it all comes down to this: Is my act of using ayahuasca (and any of the many other psychoactive substances, marijuana being the most common among "spiritual seekers") sanctioned by The Great Mother? Is my entire and sole (soul) motivation nothing but to reconnect with The Mother and to fulfil my spiritual agreement with Her? Am I engaging in this act for NO other reason than to uncover my Divine Agreement with the Divine Mother / Father / Creator? Am I certain I am not simply hankering after spiritual experiences; looking to an outside (other the self) spiritual entity for something I am denying within my own spirit?
As I said, every experience from the most profound to the most profane, from the most heavenly to the most hellish can be beneficial to a degree. Such is the nature of the human spirit unfolding through the field of consciousness we call "the world". And yes, EVERYTHING comes with a price. Every quantum of energy I consume, even the energy I consume in writing these words, and you're consuming in order to read them, is accounted for and must be balanced out.
There are ABSOLUTELY situations in which drinking ayahuasca might be one of the more life-giving acts a person can engage in as part of their spiritual evolution in a given moment. And yes, I dare to say, there are many situations in which it is not. Benefits? For sure. But is there a greater cost and risk involved than what the partaker realises in many situations? Absolutely.
In those rare cases when ayahuasca is called for, I suspect it is relatively rare that any more than perhaps two or three such experiences are necessary before the experience becomes spiritually redundant and more an act of ego-satisfaction and personal indulgence. Of course we must each learn to discern that for ourselves.
I travel all over the world teaching people interested in spiritual matters, and as a result I have met a considerable number of people from many walks of life who have taken ayahuasca. In my observation the vast majority were infiltrated by entities of one kind or another, and most were still seriously disconnected from their Divine essence and origin[2]Granted, they may have already been infiltrated by entities, prior to any ayahuasca usage. Yet, I have reason to think that in many cases their … Continue reading. In some cases people were seriously harmed, on a spiritual level, by their experience with ayahuasca. Some of those folk knew they were negatively impacted, but didn't have a clue what to do about it. Others were oblivious to what they had brought upon themselves, or aware of the effects but in denial of the cause. And yes, there are a great many people who have experienced healing and a deeper appreciation of Life through their use of ayahuasca. Are there, however, more life-affirming alternatives for those who relate to a Path of Freedom more than a Path of High Adventure and sorcery?
The Alternatives?
The next article in this series will look at alternatives to taking using plant spirits for restoring balance and for divine communion.
Public Reaction
(added in January 2015) These articles on ayahuasca are by far the most popular on my website. They have received the most comments by a long shot, and have resulted in my receiving a significant number of emails. The views expressed in those comments and emails have been very contrasting. If you feel moved to email me in order to defend your personal opinions on Ayahuasca, I ask you to please kindly refrain from doing so. Please feel free to post a comment instead, and please be aware I may choose not to invest energy in responding to your opinions. I simply have too many other things to focus on. If this is a topic of interest to you—whether you agree with my views, or not—I also ask that you please take the time to read Part One and Part Three[3]As of February 5, 2015, Part Three is yet to be published. of this series on Ayahuasca.
Footnotes & References[+]