Last Updated on August 6, 2015
The following is an excellent audio excerpt of key statements and messages Kogi, as recorded in the 1992 documentary Elder Brothers' Warning: Message from the Heart of the World.[youtube id="5Z-NDNHw6wQ" align="center" mode="normal" autoplay="no" maxwidth="1200″ parameters="?modestbranding=1 controls=2 showinfo=0″]
Text Source (below): www.alunathemovie.com
The Kogi are profoundly frightened by what we are doing to the world, but also well aware that we have no understanding of the forces which we are unleashing. They believe that the only hope of survival for mankind is if we can learn why they are so scared, and they know that we will only believe what we can see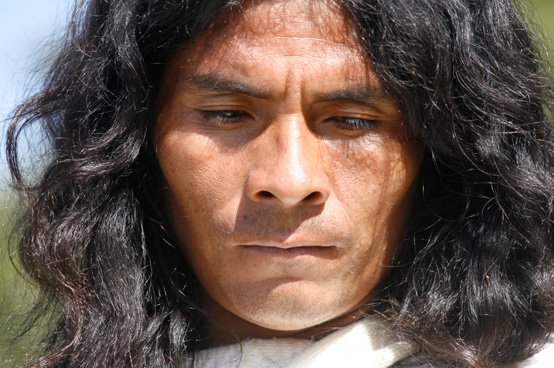 The core message of ALUNA is that the Kogi understand – as we do not – that there are critical interconnections within the natural world.  It is a subtle and hidden network, and interfering in one part has a major impact on other specific parts.  The words of the message are "protect the rivers" but the question is how?  The answer is to draw on indigenous understanding of environmental impacts, and the obvious follow-on is to engage indigenous expertise in environmental impact assessments.  This involves significant adjustment not only on the part of Western development projects, but also indigenous communities themselves to provide that assistance and guidance on request.  Systems need to be established for this, and it may well be the next task of the Trust to assist with this.
The Kogi are the last surviving civilization from the world of the Inca and Aztec, and their cities are untouched by our world. The mountain they inhabit is an isolated triangular pyramid rising over 18,000 feet from the sea, the highest coastal mountain on earth. It is on a separate tectonic plate from the Andes, and its unique structure means that it is virtually a miniature version of the planet, with all the world's climates represented. The mountain is quite literally a micro-cosmos, a mirror of the planet on which every ecological zone is represented and in which most of the plants and animals of the planet can find homes.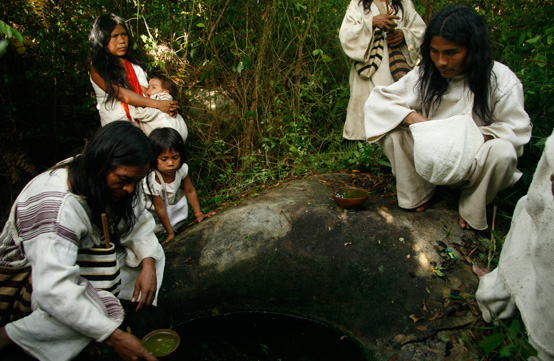 The journey to reach their native lands involves passing through a jungle region known to local tomb robbers and cocaine makers as "hell," where nature and armed gangs combine to seal the Kogi away. Hidden from the modern world, the Kogi are revered by other Native Americans from the Amazon to the Hudson River. Today's Guatemalan Maya are led by men who were sent as children to be trained by the Kogi. The Seminole people of Florida send offerings to them.
Their spiritual leaders are raised in the dark for their first 18 years, to communicate with "ALUNA", the thought process that shapes and maintains reality, the source of life and intelligence. They then become Mamos (Enlightened Ones). Some work at remote places which they call "hot spots", where they believe living energy pours into the world. They guard their isolation and secrecy so that they can continue this work.
But now they believe their work has become impossible in the face of our destructive greed.
Now they have another message to share, and we all must listen… It's called Aluna, the movie